The importance of pre-drying in Sanitaryware production.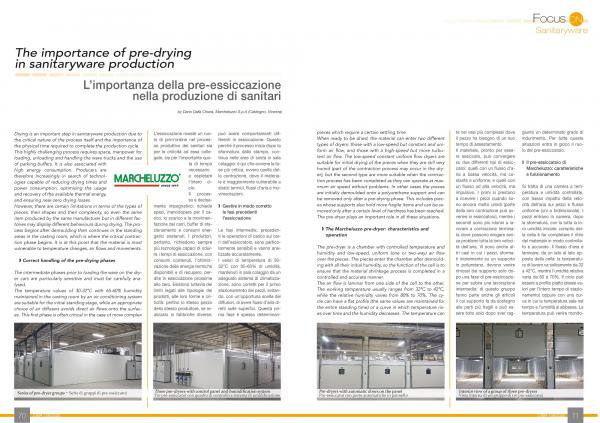 Drying is an important step in Sanitaryware production due to the critical nature of the process itself and the importance of the physical time required to complete the production cycle.
This highly challenging process requires space, manpower for loading, unloading and handling the ware trucks and the use of parking buffers. It is also associated with high energy consumption. Producers are therefore increasingly in search of technologies capable of reducing drying times and power consumption, optimizing the usage and recovery of the available thermal energy, and ensuring near-zero drying losses.
However, there are certain limitations in terms of the types of pieces, their shapes and their complexity, so even the same item produced by the same manufacturer but in different factories may display different behaviors during drying. The process begins after demoulding then continues in the standing areas in the casting room, which is where the critical contraction phase begins.
It is at this point that the material is most vulnerable to temperature changes, air flows and movements.