Innovation and automation in the Santafé factory upgrade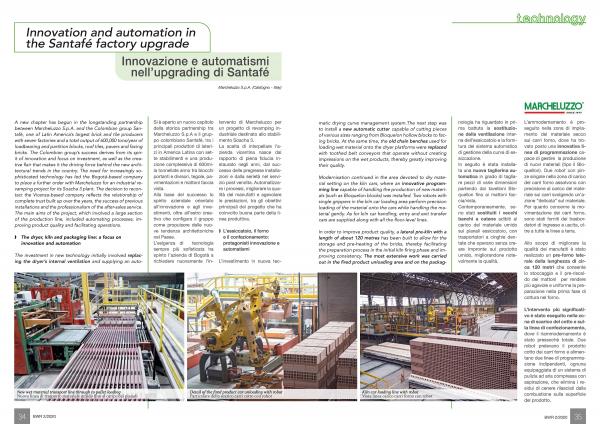 A new chapter has begun in the longstanding partnership between Marcheluzzo S.p.A. and the Colombian group Santafé,
one of Latin America's largest brick and tile producers with seven factories and a total output of 600,000 tons/year of
loadbearing and partition blocks, roof tiles, pavers and facing bricks.
The Colombian group's success derives from its spirit of innovation and focus on investment, as well as the creative
flair that makes it the driving force behind the new architectural trends in the country.
The need for increasingly sophisticated
technology has led the Bogotá-based company to place a further order with Marcheluzzo for an industrial revamping
project for its Soacha 3 plant.
The decision to recontact the Vicenza-based company reflects the relationship of complete trust built up over the years, the success of previous installations and the professionalism of the after-sales service.
The main aims of the project, which involved a large section of the production line, included automating processes, improving
product quality and facilitating operations.